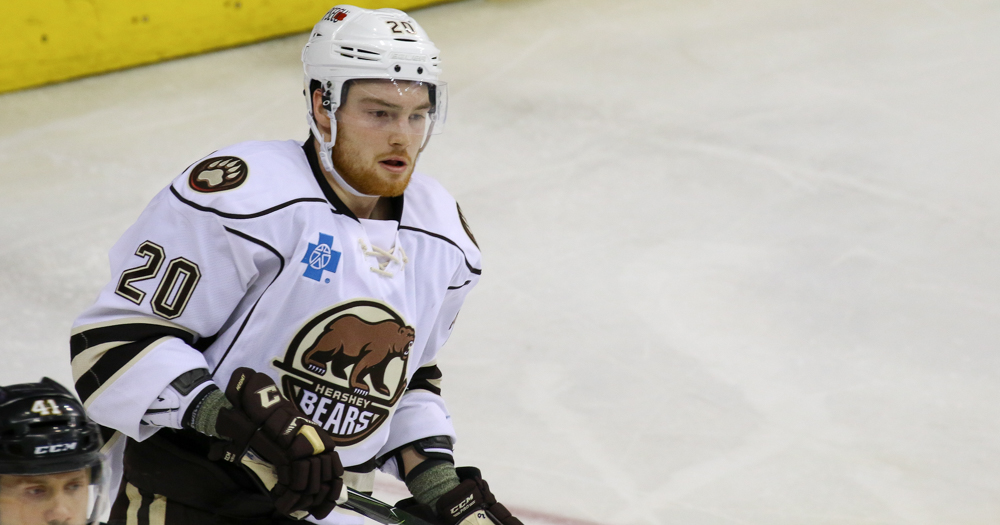 Liam O'Brien re-signs with Washington
Forward Liam O'Brien has re-signed a one-year, two-way contract with the Washington Capitals for the 2017-18 season.
O'Brien, 22, has spent the last three seasons with the Capitals organization, having a breakout season last year with career highs in all point categories (10-20-30) in 64 games with Hershey last season.
The power forward found his stride midseason with the Bears, earning a call-up to Washington, but struggled upon his return to Chocolate Town.
He was also named Hershey Bears man of the year this season for his work in the community.
The deal is a one-year, two-way deal ($650k NHL, $85k AHL). O'Brien would need waivers to return to Hershey.
Press release:
ARLINGTON, Va. – The Washington Capitals have re-signed left wing Liam O'Brien to a one-year, two-way contract ($650,000/$85,000), senior vice president and general manager Brian MacLellan announced today.

O'Brien, 22, appeared in one game with the Capitals during the 2016-17 season and has recorded two points (1g, 1a) in 14 career NHL games with Washington. The 6'1", 215-pound left wing made his NHL debut on Oct. 9, 2014 against Montreal and earned his first NHL point with an assist on Oct. 14, 2014 against San Jose. O'Brien scored his first NHL goal on Oct. 26, 2014 at Vancouver.

The Halifax, Nova Scotia, native recorded 30 points (10g, 20a) in 64 games with the Hershey Bears (AHL) during the 2016-17 season and set career highs in points, goals, assists and games played. O'Brien ranked third on the team in penalty minutes (117) last season, seventh in assists and ninth in points. In addition, he was named the team's winner of the IOA/American Specialty AHL Man of the Year award for his outstanding contributions to the Hershey community during the 2016-17 season. O'Brien has earned 54 points (21g, 33a) in 168 career AHL games with Hershey.