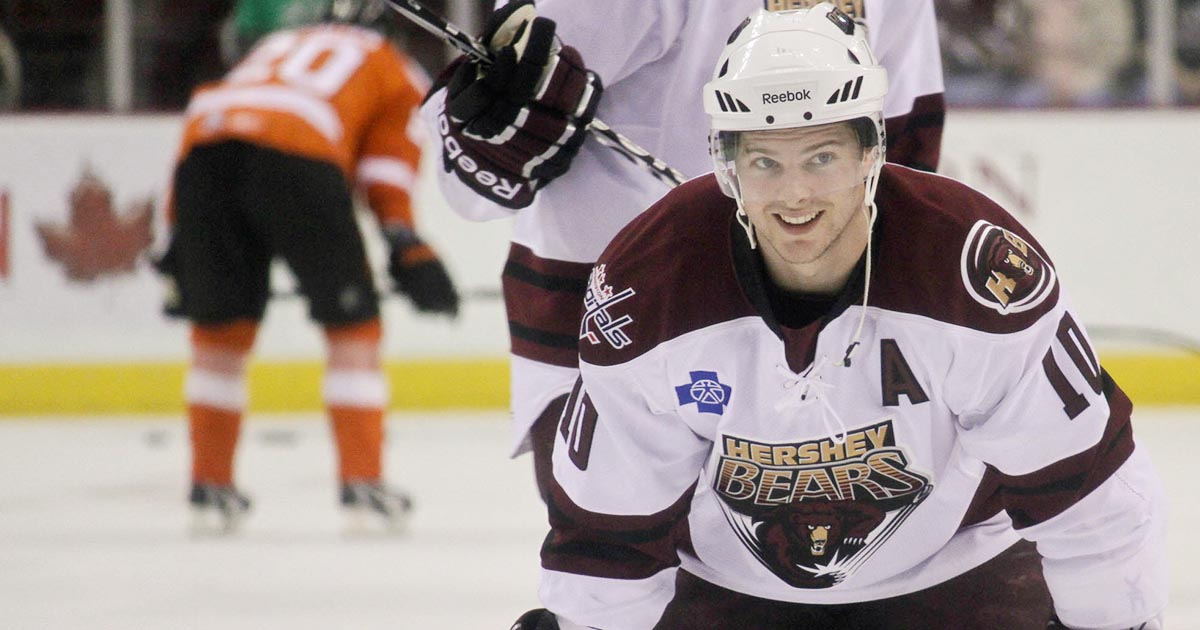 Six former Hershey Bears named to Team Canada's pre-Olympic roster
The Hershey Bears could see a few former members suiting up for Team Canada in the 2018 Olympics.
Andrew Gordon, Sean Collins, Jacob Micflikier, Justin Peters, Patrick McNeill, and Chay Genoway have all been named to Team Canada's pre-Olympic tournament rosters.
Gordon, 31, spent the first four years of his career with Hershey, winning two Calder Cups as a key member of the 2009 and 2010 teams. The Halifax, Nova Scotia native now plays for Linkoping in the Swedish Hockey League.
Collins spent the 2015-16 season with Hershey, scoring 39 points in 75 games during the Bears run to the Calder Cup Finals. Collins then moved to the newly formed Kunlun Red Star of the KHL based out of Beijing, China before signing with HK Sochi this offseason.
Micflikier played only one season for the Bears in 2011-12, scoring 56 points in 57 games. It would mark his last season in North America before he moved to Europe, where he has played since 2012. He is currently a member of EHC Biel-Bienne in Switzerland.
Peters was the hero of Hershey's 2016 playoff run, leading the Bears to their 23 finals appearance in team history. After splitting last season with Tuscon and Texas, he signed with Dinamo Riga of the KHL during the offseason.
McNeill was a star in Game 6 of the 2010 Calder Cup Finals, scoring two goals for the Chocolate and White on their way to another championship. While he never got a shot at the NHL, he signed with ERC Ingolstadt of Germany in 2015, where he has played ever since.
Genoway spent two seasons with Hershey after being traded in 2012-13 to the Chocolate and White; he spent all of the 2013-14 with the Bears. Appearing in 64 games for the Bears over those two seasons, Genoway made the jump to Europe as a free agent in 2014 where he has spent the last three years in the KHL. He is set to join Lada Togliatti this year.
Peters, Genoway, and McNeill will appear in the 2017 Sochi Hockey Open, while Gordon, Collins, and Micflikier will sport the Canadian crest in the 2017 Tournament of Nikolai Puchkov. Full rosters below.
2017 Sochi Hockey Open
Forwards: Justin Azevedo, Gilbert Brulé, Brandon Buck, Kevin Clark, Andrew Ebbett, Bud Holloway, Rob Klinkhammer, Brandon Kozun, Ben Maxwell, Brandon McMillan, Eric O'Dell, Daniel Paille, Mason Raymond, Max Talbot, Linden Vey
Defence: Chay Genoway, Geoff Kinrade, Patrick McNeill, Maxim Noreau, Mat Robinson, Jonathan Sigalet, Karl Stollery
Goaltenders: Justin Peters, Kevin Poulin

2017 Tournament of Nikolai Puchkov
Forwards: Taylor Beck, Sean Collins, Cory Emmerton, Ryan Garbutt, Andrew Gordon, David McIntyre, Jacob Micflikier, Trevor Parkes, Marc-Antoine Pouliot, Derek Roy, Greg Scott, Paul Szczechura, James Wright
Defence: Cam Barker, Carlo Colaiacovo, Stefan Elliott, Marc-Andre Gragnani, Kevin Klein, Shawn Lalonde, Craig Schira
Goaltenders: Kevin Poulin, Ben Scrivens