We Need to Talk About the Hershey Bears Recent Struggles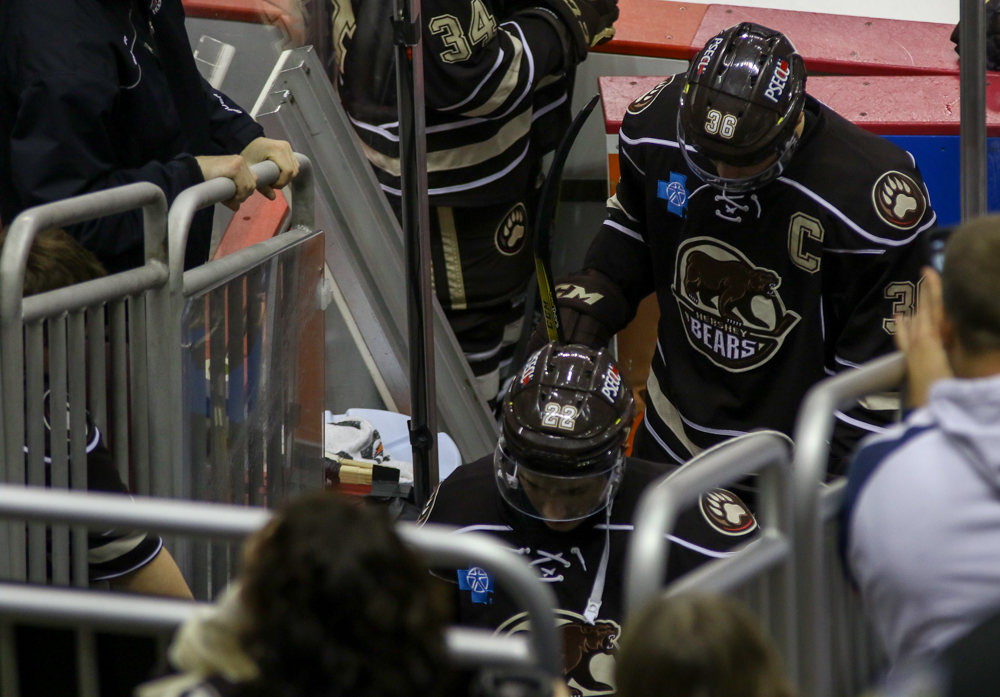 Since December 31, the Hershey Bears are on a 1-7-2-0 skid, possibly the worst ten game skid in the current affiliation with the Washington Capitals. It's time to address some of the issues.
After a tough week getting three out of a possible six points going into the Christmas break, the Bears faced a jam packed week to end 2016. A week off sparked a quality win in Lehigh Valley for the Chocolate and White, but since then things have not been great.
Two nights later in Syracuse, Hershey had a solid effort against the Crunch, coming up short in overtime against the top team in the North Division. That same game, the Bears would lose defenseman Madison Bowey until April, who had a tendon in his leg lacerated by a skate. Hershey returned to Chocolate Town that Friday to a win against Bridgeport, but immediately dropped the next game to Providence, beginning their current slump.
Hershey has gone from fourth in the league in goals allowed to 26th, being outscored by opponents 47-24 in that same period. Vitek Vanecek has not won a game since December 26, his save percentage has dropped from .930 to .898, and Joe Cannata is 44th and 47th out of 47 qualified goaltenders (minimum 780 minutes played) in goals against average and save percentage respectively. The struggles from the blue line back have led to seven straight games with four or more goals allowed.
Hershey is not a bad hockey team. They still sit fourth in the league in goals scored, and have one of the more talented front ends in the entire league. But as Troy Mann said after Sunday's loss to Lehigh Valley: "More responsibility has to be placed on our forwards."
The Bears are in a position where they need help. "We've got pretty much an ECHL defense right now, in my opinion," Mann said, and it's very true. With Bowey out, Tyler Lewington sustaining an injury on Saturday night, and Colby Williams who is currently on bereavement leave, Hershey dressed Joey Leach and Steve Weinstein Sunday evening, both of which have spent the majority of their careers in the ECHL. Along with Darren Dietz and Christian Djoos, who are both still nursing facial injuries and have been playing sub-par as of late, the Bears are lacking depth at the back.
Bowey is the biggest gap on the Hershey blue line, who ate up an estimated 20-25 minutes a night for the Bears. Arguably the best defenseman on the team, the 21-year-old could move the puck up the ice with ease, while also being one of the best at shutting down opposing players. That gap left in the Bears defense has been killer – which is why Hershey needs a replacement, and they need that replacement now.
I don't think this is an issue with the systems, coaching, or personnel. The Bears are clearly frustrated with their recent form as Mann stated after Sunday's game.
Capitals GM Brian MacLellan said this after Hershey and Washington renewed their affiliation: "I'd like to think that we've made a lot of progress over the last two years and will continue to make more progress going forward here, to do what's best for our guys but also to put a good product on the ice in Hershey, too." While Washington has done what's best for their NHL team this season, a somewhat lackadaisical approach for Hershey from the organization has been noticed this year.
While in division rivals Pittsburgh and Philadelphia stacked up on AHL defensemen on the first days of free agency, Washington did not qualify Ryan Stanton and re-signed only one of their three veteran defensemen from last season, Aaron Ness. With Washington believing Jonas Siegenthaler would be in Hershey this season, the announcement that he would be returning to Switzerland for family reasons this season left Hershey with only eight defensemen under contract. No corresponding move was made to fill that gap.
Between December 26 and January 28, Hershey will have played 13 of their 16 games against division opponents, arguably the toughest stretch they will face this season. While they have been unable to gain ground on the teams ahead of them, half of their games in February will be against teams ahead of them, making it crucial to make a move for a defenseman before the deadline on February 29. Three straight Sunday's in Bridgeport, along with a weekend including back to back games in Providence will be a major test for the Bears, and with reinforcements on the back line, Hershey can easily reclaim their spot in the playoffs.
After signing this four-year deal to be affiliated with one of the most prestigious teams in all of minor league hockey, if Washington wants to send the message they are truly commited to Hershey, they better make a move and make it soon.