Breaking down the 2017-18 Hershey Bears schedule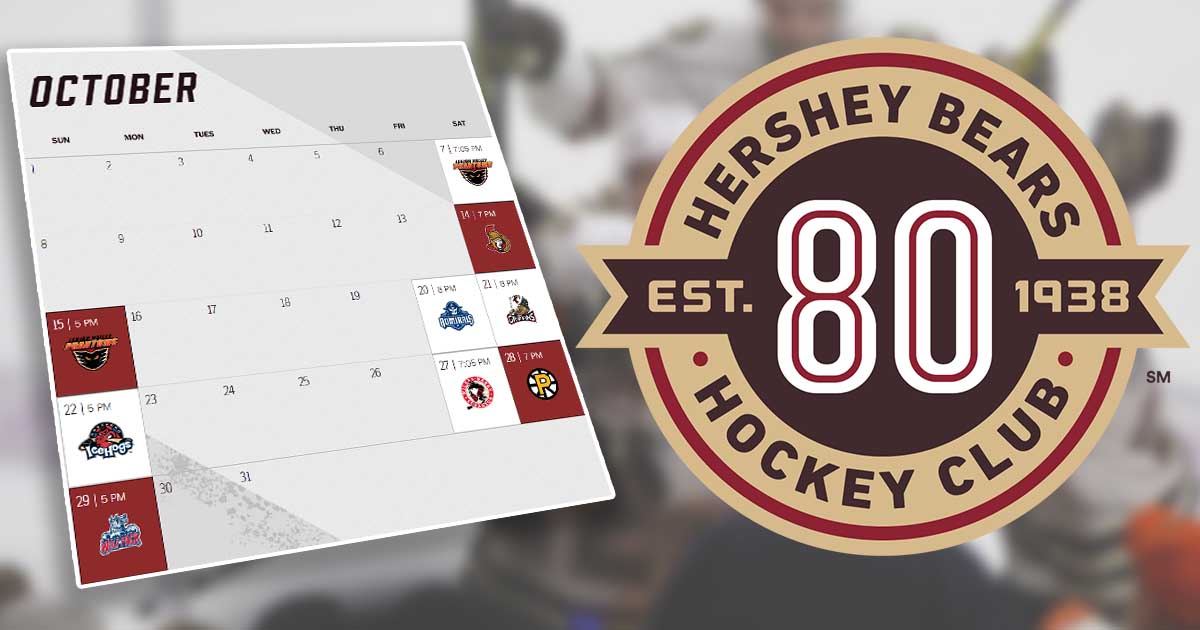 On Tuesday afternoon, the AHL released the league schedule for the 2017-18 season. That included the Bears schedule for their 80th season in the league. Now, we break down that schedule for your reading pleasure.
The season will kick off the first weekend of October in Lehigh Valley in a rematch of the first round of the 2017 Calder Cup Playoffs. Expect an intense Phantoms crowd as the baby Flyers look for revenge.
A week later, the Bears will take to Giant Center's ice for the first time against a new team: the Belleville Senators. Then, Lehigh Valley visits GC the next night as the Bears become acquainted with the Phantoms early on in the season.
Hershey kicks off their first road trip west of Lake Michigan since 2011 on October 20th as they take on the Milwaukee Admirals. That starts a three-in-three series that finds the Bears play games against Grand Rapids and Rockford the next two nights.
The Bears arch-rival Wilkes-Barre/Scranton Penguins come to town for the first of six trips down I-81 on Sunday, November 12th. That same weekend begins a stretch of 11 out of the next 16 games at home for the Bears.
An annual tradition of a Thanksgiving Eve game will take place against Springfield this season on Wednesday the 22nd.
Hershey will have a stretch of nine games where they won't have to travel outside of the state of Pennsylvania from November 26 to December 16.
A small homestand will close out 2017 as the Bears get four straight home games between December 30 and January 10.
An Outdoor Classic preview will happen a week before the game as the Bears and Phantoms will match-up in a home-and-home series on January 13 and 14. Then the Bears will travel to Springfield before heading back to Hershey for one game the next weekend against Lehigh Valley outside at Hersheypark Stadium.
The Bears will have an extended trip to Canada to face the new Belleville Senators and Laval Rocket on February 16 and 17, then getting a day off before facing the Toronto Marlies at Air Canada Center in downtown Toronto on Monday the 19th.
Grand Rapids will finish off the set of Western Conference teams visiting Chocolate Town on March 11th with trips from Rockford (February 24) and Milwaukee (December 2) coming earlier in the season.
The Bears season finishes off with five-straight in-division games, starting with a road-trip to Wilkes-Barre on Tuesday, April 3, then a back-to-back in Charlotte on April 7 and 8, before returning to Chocolate Town for two games at home against Bridgeport on April 14, and Wilkes-Barre on April 15.
A full schedule can be found in PDF form on the Bears website.
Which game are you most excited about? Comment down below the matchup you are looking most forward to!