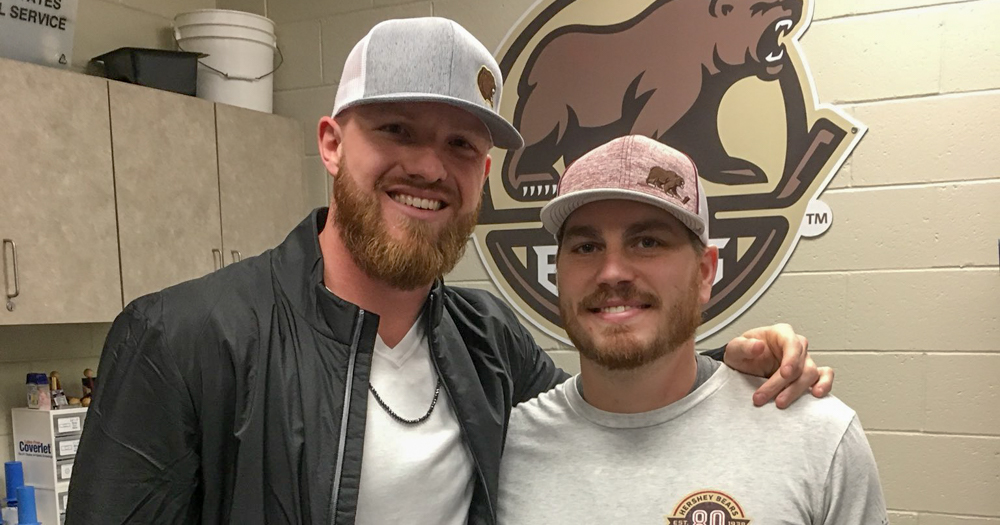 Astros outfielder Derek Fisher: Chris Bourque was my favorite player growing up
Photo: @TheHersheyBears
As Lebanon native and World Series champion Derek Fisher stepped onto Giant Center ice in his customized "Fisher 21" Hershey Bears jersey, he flashed a peace sign to a loud response from Chocolate and White faithful.
The 24-year-old outfielder was met at center ice by big Boston Red Sox fan Chris Bourque and Springfield forward Anthony Greco to drop the ceremonial first puck at last Wednesday night's Hershey Bears game.
"It's been a lot of fun," said Fisher. "I spent a lot of time here as a kid. I didn't grow up far away. Being able to come here and be able to watch another game and enjoy what I did as a kid…It's been a lot of fun."
Growing up so close to Giant Center, Fisher attended Bears games during Hershey's Calder Cup runs in the late 2000s. "When I was a kid I would come to a lot of games. Bourque was actually my favorite player as a kid growing up and I was able to talk to him a lot today."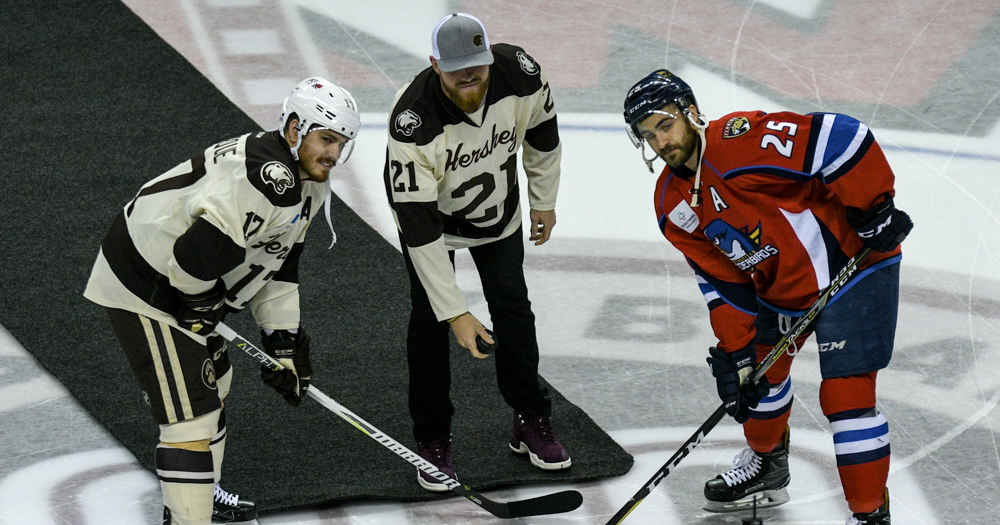 "It was really cool meeting him," said Bourque after the game. "I've been here for a long time so people probably recognize the name. He's been a Bears fan and obviously seen me play. Really cool to hear that. He was apart of a very successful team this year. I watched every game of the World Series this year and it was very fun baseball to watch. I'm a big baseball fan so it was cool to meet him. He's got a good future ahead of him and he's in a good organization so it's going to be fun to watch."
The two shared stories about Boston, as Fisher's Astros knocked out the Red Sox during their run to the World Series. "I love Boston," said Fisher. "I really do. I like Boston I like Fenway Park I love the vibe that it had. The city and the people that you know from Boston don't leave Boston and there's a reason for that. Being able to talk to him and be able to kind of relay my feelings versus what he had as a kid and growing up. It was a lot of fun to be able to relay some stories and share a city with somebody."
Fisher was a first round, 37th overall pick in the 2014 MLB Draft by the Astros and made his MLB debut in June of 2017. In his third plate appearance for Houston, the Cedar Crest grad sent a ball over the left field wall at Minute Maid Park for his first home run, and first hit of his MLB career.
In one of the greatest World Series games in history, Fisher, a pinch runner for Brian McCann, scored the winning run to give the Astros a 13-12 victory over the Los Angeles Dodgers
There have been rumors recently about an NHL team coming to Houston, something Fisher would welcome.
"I know the city and the people and how much they rally around teams and how much they rally around people especially with Hurricane Harvey. Being able to rally around each other helped us get through the times that we needed to get through. And we tried as much as we could to help them get through the time that they were going through. Houston is a great city and any team is welcomed."
Derek will make another appearance at Fairview Golf Course this Saturday December 2nd between 11 and Noon, signing autographs and taking pictures with fans.
Proceeds from the event will go to the charity of Fisher's choice. The signing will take place at the Fairview Golf Course Pavilion in Lebanon. The first 100 people will get a 5X7 photo and a World Championship Astros golf ball. Bears fans will recognize in game host and radio reporter Jim Jones, who also runs Fairview. It was that connection that got Fisher to the hockey game.
"Fairview has been something that has treated my family very well. And obviously Jonesy being here with the Bears just makes it even better. But. Fairview has been great to me and been great to my family. Just to be able to go back and to give back is something that. I really wanted to do."