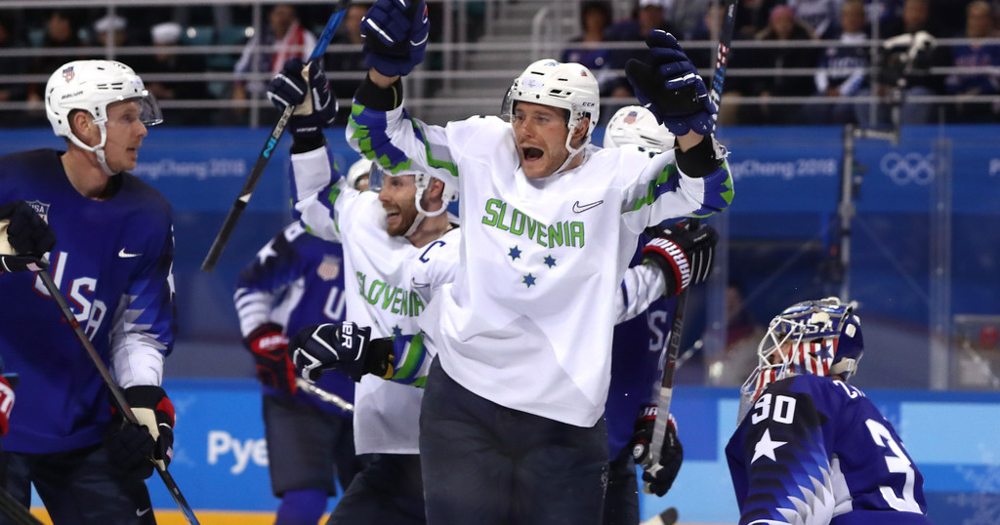 USA Hockey falls in overtime to Slovenia in Olympic opener
With high hopes in their first contest in the 2018 Olympics, the United States Men's hockey team would lose in a heartbreaking overtime game against Slovenia, 3-2.
Brian O'Neill opened the scoring for the USA on a play started by Ryan Donato. Donato would bring the puck into the Slovenia zone, splitting defenders before getting a shot attempt off. The attempt would be picked up by Garrett Roe, who would set up O'Neill to send one into the back of the net.
Jordan Greenway would put the USA up 2-0 as he cleaned up a rebound off of Bobby Sanguinetti's shot right in front of Slovenia's goal to extend the United States lead.
But Slovenia would fight back. Early on in the third period, Jan Urbas would deflect Blaz Gregorc's shot cut the USA lead to 2-1 with a goal 5:49 into the final period of regulation.
With under two minutes remaining, Jan Mursak found a loose puck in front of the American's net off of another Gregorc shot and would put the puck in the back of the goal to send the game to overtime.
Only 38-seconds into overtime, Rok Ticar slid a pass under both Donato and Matt Gilroy's sticks to a wide open Mursak, who would lift the puck up and past Ryan Zapolski to give Slovenia the extra point.
Hershey's Chris Bourque finished his first game at the Olympics with 11:56 of ice time, recording one shot while being on the ice for one of Slovenia's goal. Bourque also quarterbacked the USA's first power-play unit all night long, managing the point for the red, white and blue.
The USA will have a chance to bounce back Thursday at 10 pm EST against Slovakia, who beat the Olympic Athletes from Russia 3-2 on Wednesday.