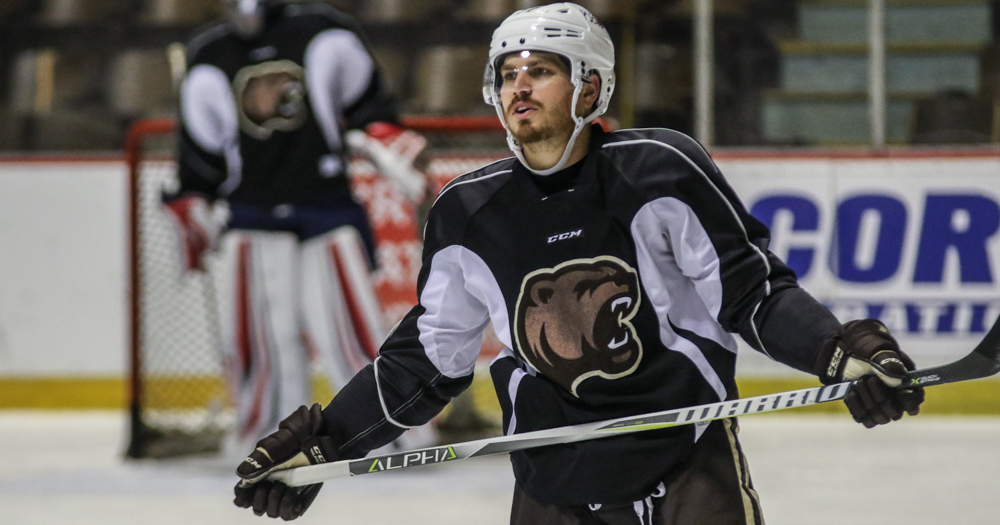 Chris Bourque: "My game is in a really good place"
As Chris Bourque goes, so go the Bears. It's a common thought among Bears fans who have followed Hershey's top scorer over his nine-year career in Chocolate Town. If the 13 games into the season are any indication, Hershey and Bourque could be in for a very good year.
Bourque already has 18 points in his first 13 games, six more than at this time last season. "I feel really good and feel like my game is in a really good place," Bourque said after Friday's practice. "Last year I don't know what it was. I pretty much couldn't get into a zone the whole year. A little bit of an off year for me."
In fact, last season was Bourque's lowest point production since getting regular minutes with the Bears in 2006-07. But now Bourque says "I'm feeling pretty good, so hopefully it keeps going."
Bourque is not only leading the Bears in scoring but also at the top of the list in the AHL. Going into Saturday nights game, he'll battle with the player who's leading the league but just a point ahead in the race, Lehigh Valley's Danick Martel.
"At the end of the day, it's just about getting the wins. I know I had that five-point night but we still lost. That was pretty frustrating. You know you are getting your points but you don't look too much at that, more at the standings."