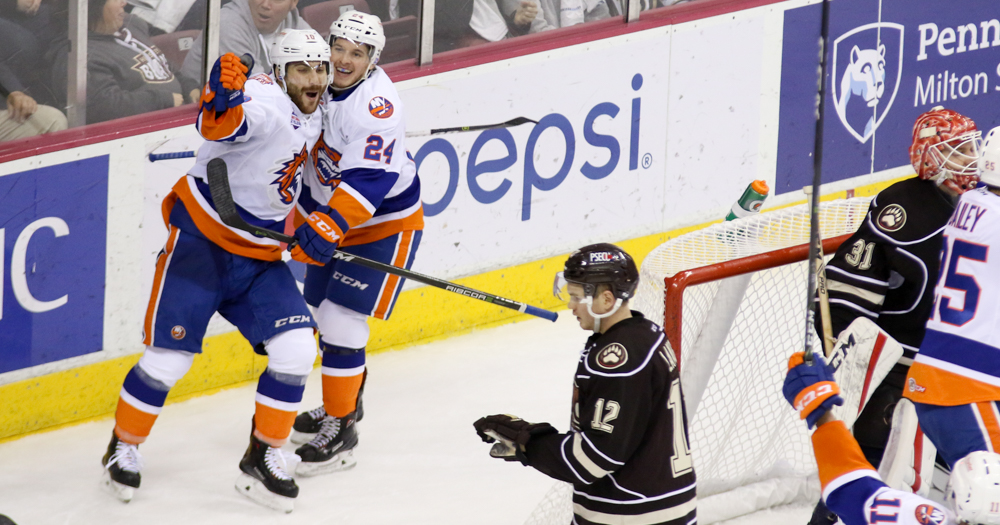 Ryan Bourque comes out on top in the Battle of the Bourques Sunday night
For parts of the last three seasons, brothers Chris and Ryan Bourque have been teammates. Whether it was in Hartford, where Ryan made his name in professional hockey, or Hershey, where Chris is viewed as a living legend, the two have enjoyed spending time on the same roster.
Sunday night, the two sat on different benches for the first time since December of 2015 as the younger Bourque returned to Chocolate Town for the first time since signing with Bridgeport in September.
But before the game even began, Ryan received a large round of applause as he was announced as a starter for the Sound Tigers. "It was awesome," said Bourque. "It was surreal. I spent a year and a half here and have amazing memories with the organization as a whole and the town. It was really humbling to see [fans cheering] and it brought back some great memories of being on their side and getting some real good ovations."
For Chris, whenever he gets the chance to match up against his younger brother on the ice, it's always a little bit more memorable. "Every game there's a different storyline to it, but when you play against your brother it's something special," said Chris. "I was lucky enough to play with him for parts of three seasons, lucky enough to still play against him six times a year."
By the end of the first period, fans knew it was going to be an all-Bourque show as Chris and Ryan scored a combined three goals in the opening period.
As the game dwindled down, Ryan tied Chris and picked up his second goal of the night to force overtime and a shootout, where Chris would score again, but Ryan and his Sound Tiger teammates would pick up the extra point for their team. "This was a great experience and I'm sure we'll remember it for a long time," said Ryan.
"There's a fine line between being competitive and wanting someone to do well," said Chris. "Seeing him score out there, even if it's against your team, I still get excited for him."
Both brothers were named stars of the night, with Chris picking up the honors of being the second star, and waited for his brother on the ice as Ryan came out to greet the Hershey crowd. "It was pretty cool to see him get the second star and be waiting for me at the bench," said Ryan. "That's a cool moment to share as well."
How long is Ryan going to hold his victory over Chris' head? "Not long," he said with a chuckle. "He's got all the accolades and awards in the world. If I can accomplish 50% of what he's accomplished in this league I'd be pretty happy with my career."
What a night for this guy tonight. pic.twitter.com/LbmenIBRaK

— chris bourque (@cbourque17) November 27, 2017