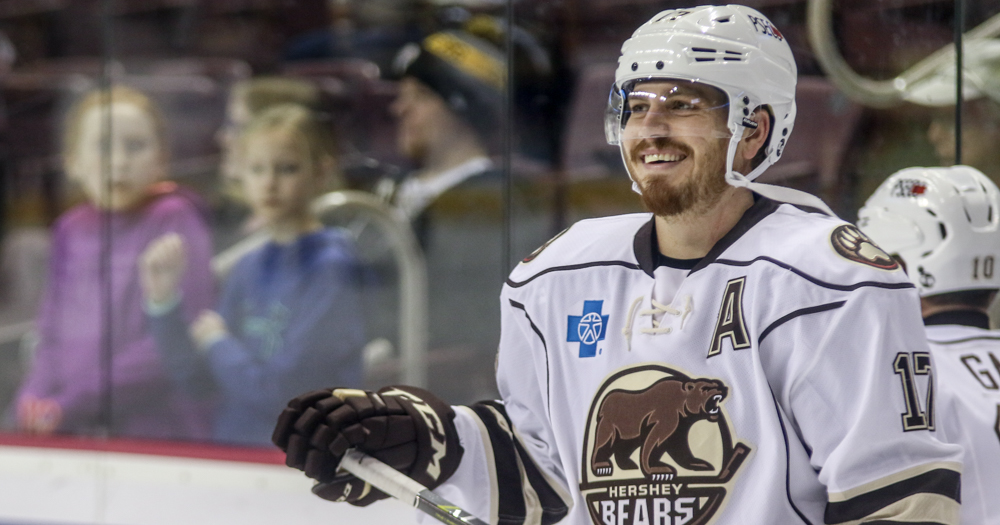 Chris Bourque named to USA Hockey 2018 Olympic team
The speculation began months ago and now Hershey Bears veteran Chris Bourque has been officially named to the USA Olympic Hockey team for the 2018 Winter Olympics in Pyeongchang, South Korea.
Bourque was one of three American Hockey League players named to the roster during an announcement on New Year's Day at the NHL Winter Classic in New York.
"This is obviously an unbelievable honor for myself and my family," said Bourque in a press release from Hershey. "It's one of the biggest moments in not only my hockey career, but in my life. Playing in the Olympics—I don't even know if it's something you really dream about because it's so far-fetched growing up as a kid, so to have the opportunity is something that I can't even describe. It's an honor to represent Team USA."
"The entire Hershey Bears organization is thrilled for Chris Bourque," said Hershey Bears vice president of hockey operations Bryan Helmer in a press release. "This is an incredible honor for Chris and something that he deserves. He has been a large part of our organization for many years, and his play on the ice this year once again cements his legacy as one of the best to ever play the game at this level. We're excited to see Chris skate for Team USA in the Olympics, and know he'll do us proud."
"His career speaks for itself," Bears head coach Troy Mann told Chocolate Hockey. "He's practically a Hershey icon now, and I've had the pleasure of coaching him for a number of years. Certainly ecstatic he's getting the opportunity, obviously not going to be good for the Bears for two-three weeks, but for him personally and the organization to have a member represented in the Olympics is going to be awesome."
Bourque represented Team USA in the 2005 and 2006 World Junior Championships, scoring seven goals in seven games, a tournament best, during the American's run to the semi-finals.
When the NHL made its decision to not allow players to attend the Olympics, Chocolate Hockey asked Bourque about the oppotunity, something that wasn't on his mind at the time. "Of course if that opportunity arose, then for sure," said Bourque in April. "Anytime you can represent your country and put on that jersey; it's always a special opportunity."
Now, he has the opportunity to sport the red white and blue and bring a gold medal to the US for the first time since 1980.
Bourque is expected to miss at least nine Hershey Bears games, and as many as 12, depending on how scheduling and how far Team USA advances.
Former Bear Ryan Stoa was also named to the Team USA roster.