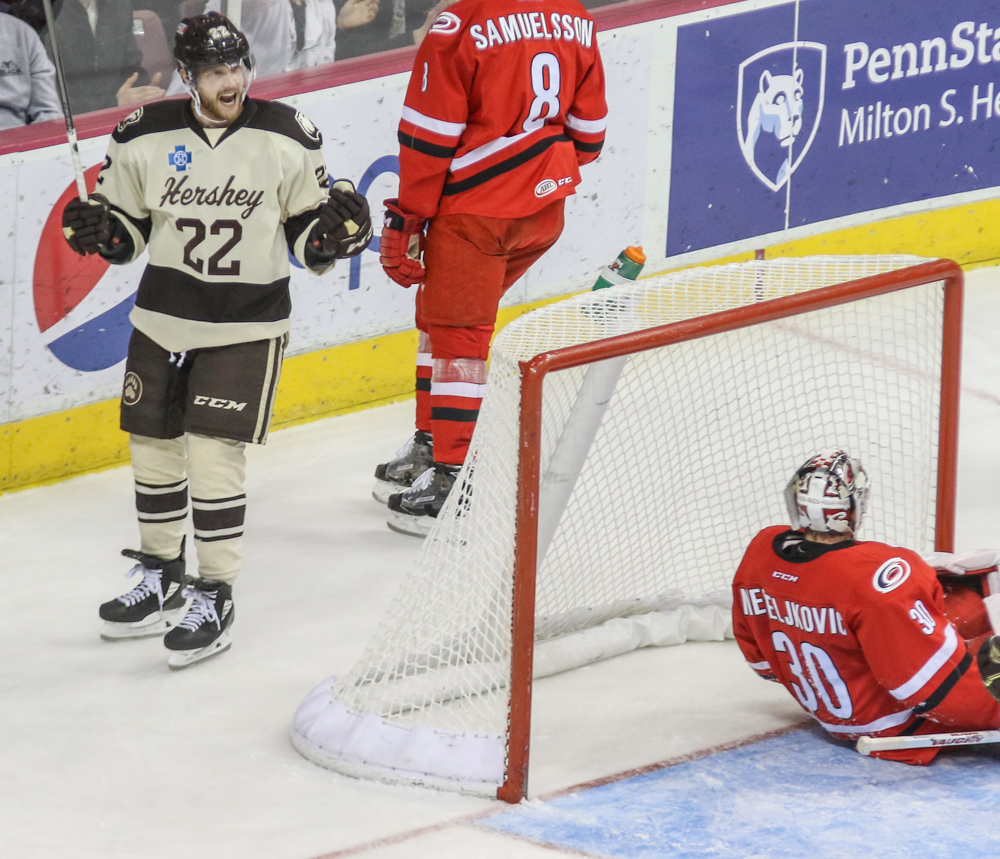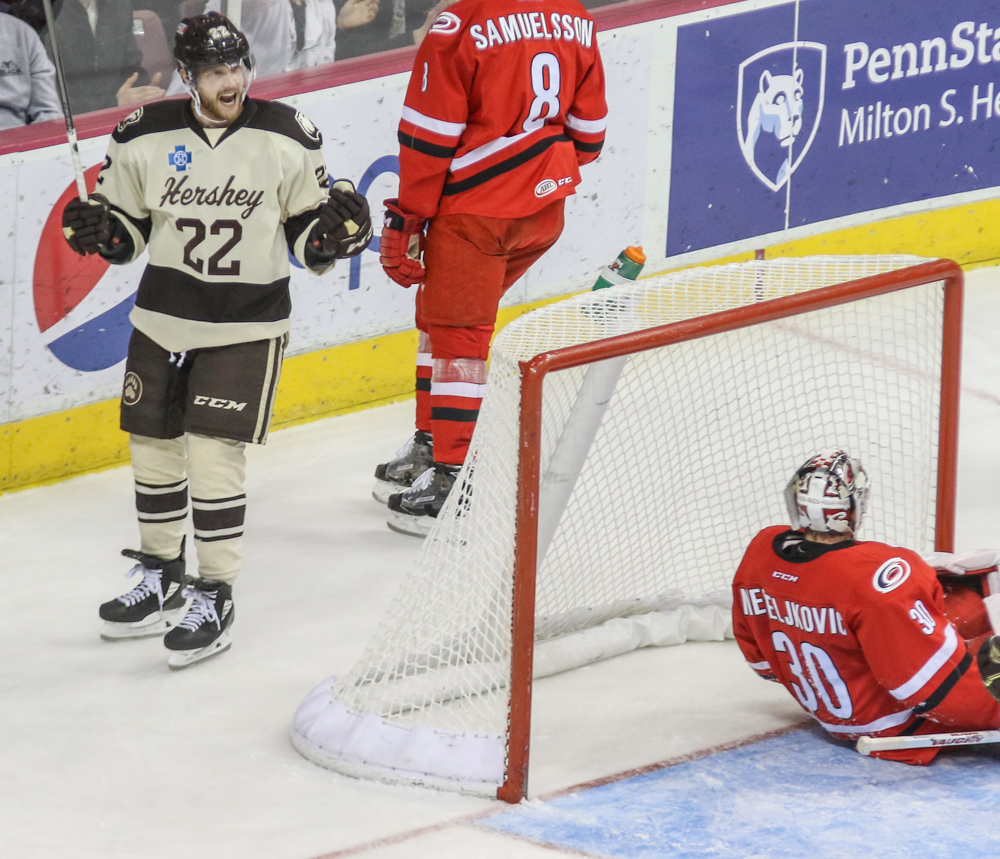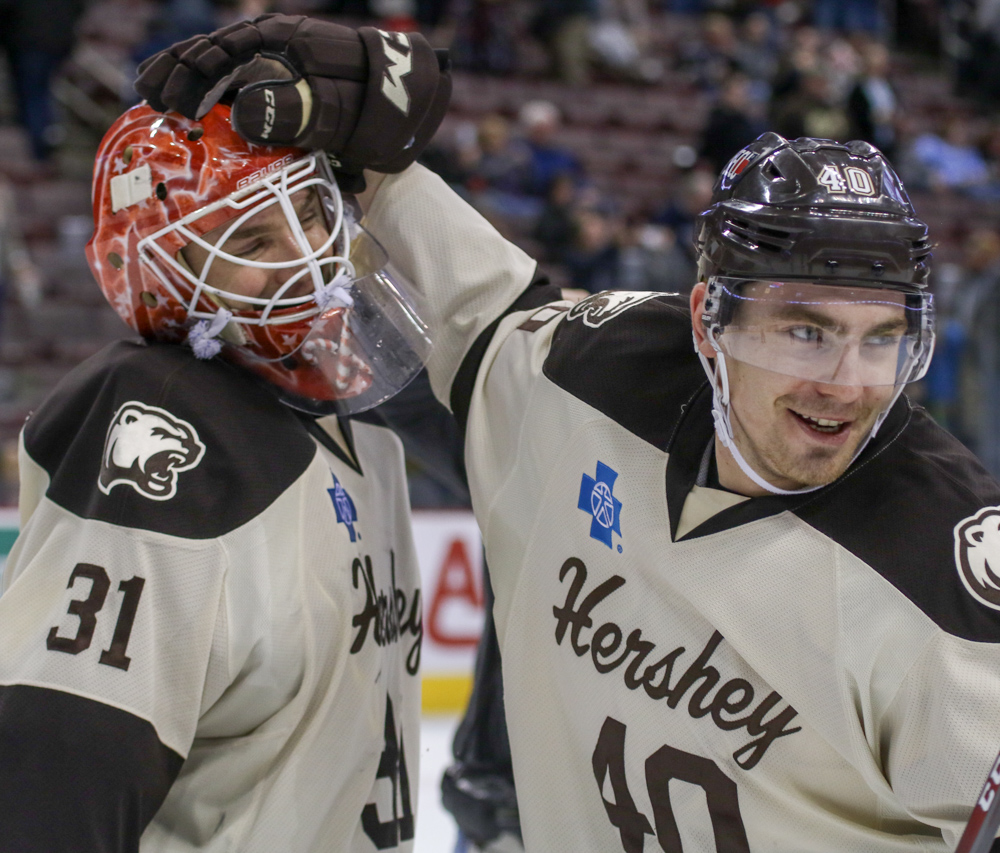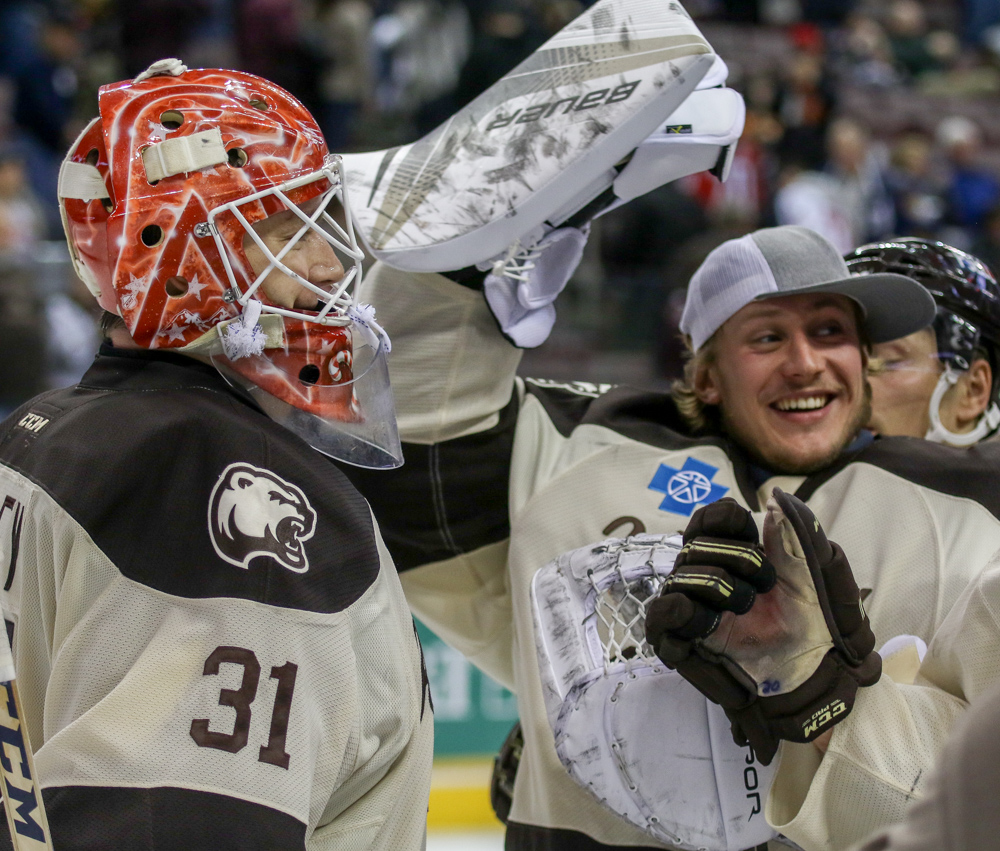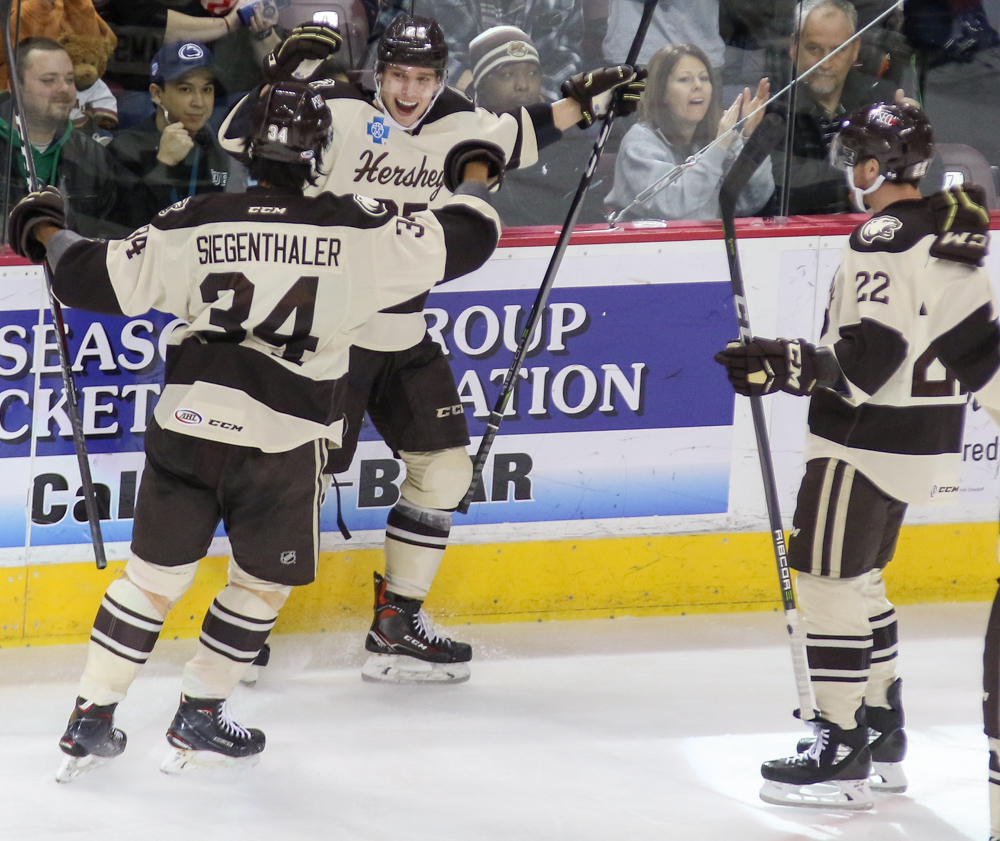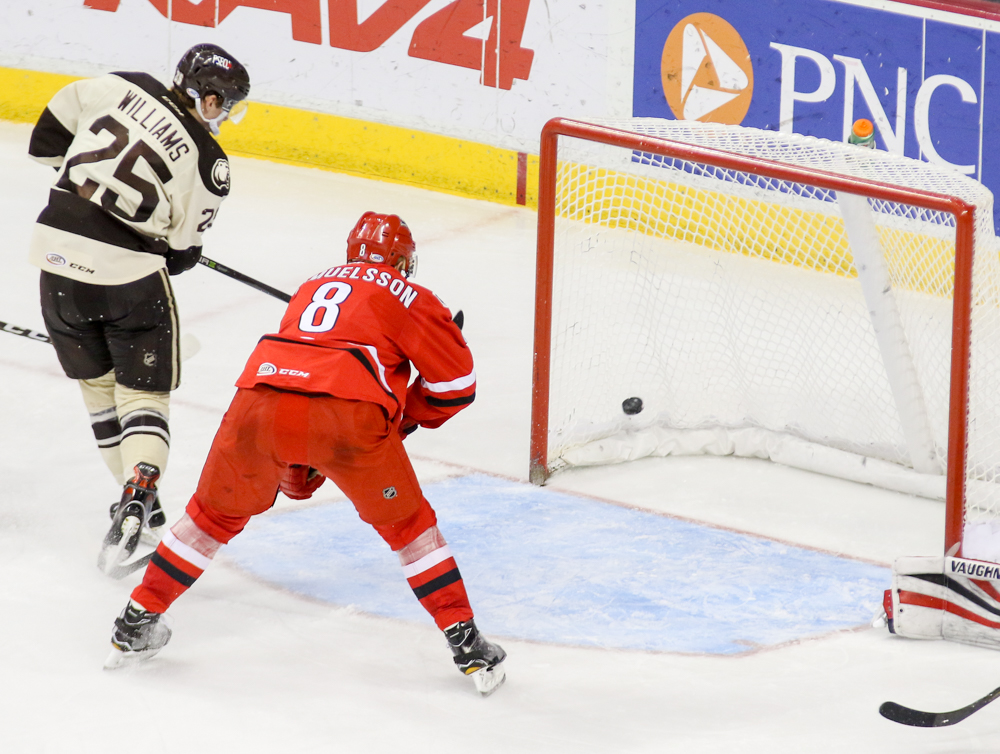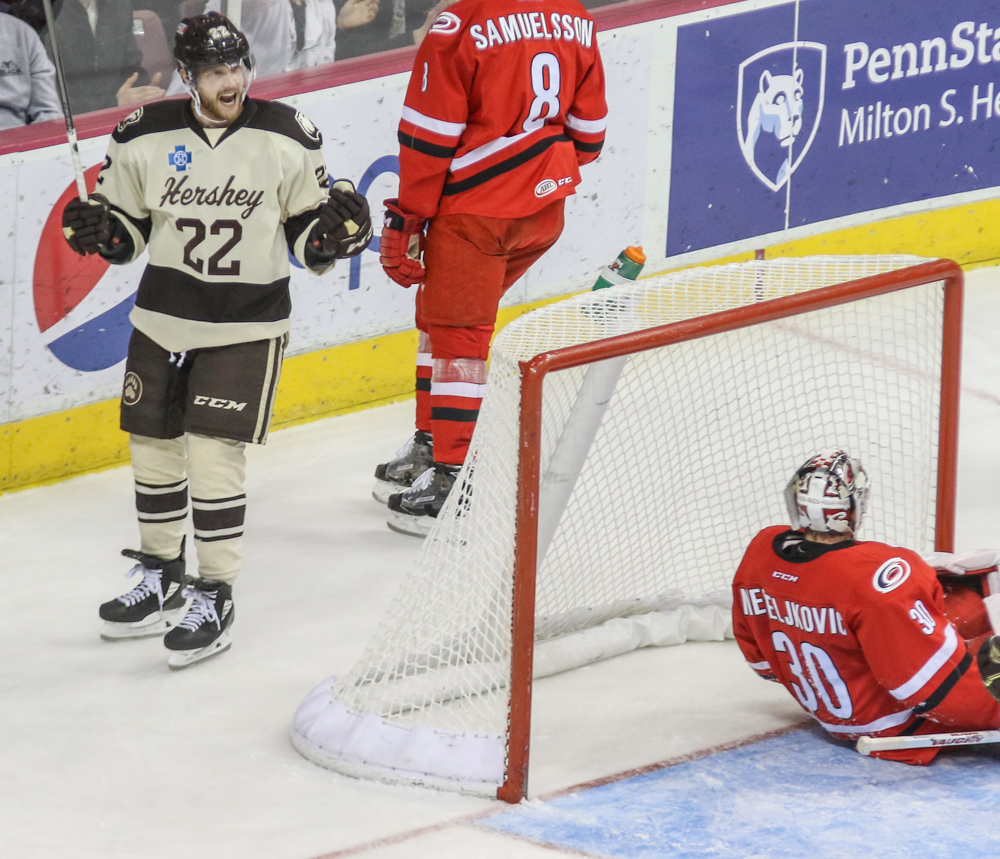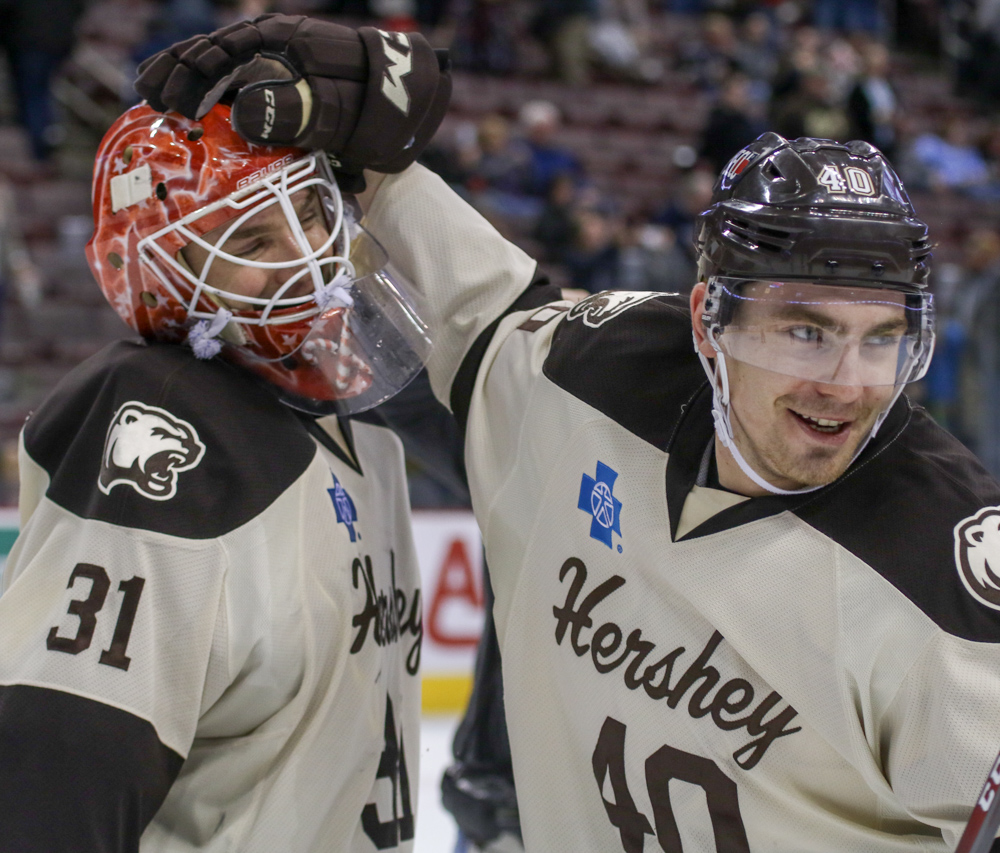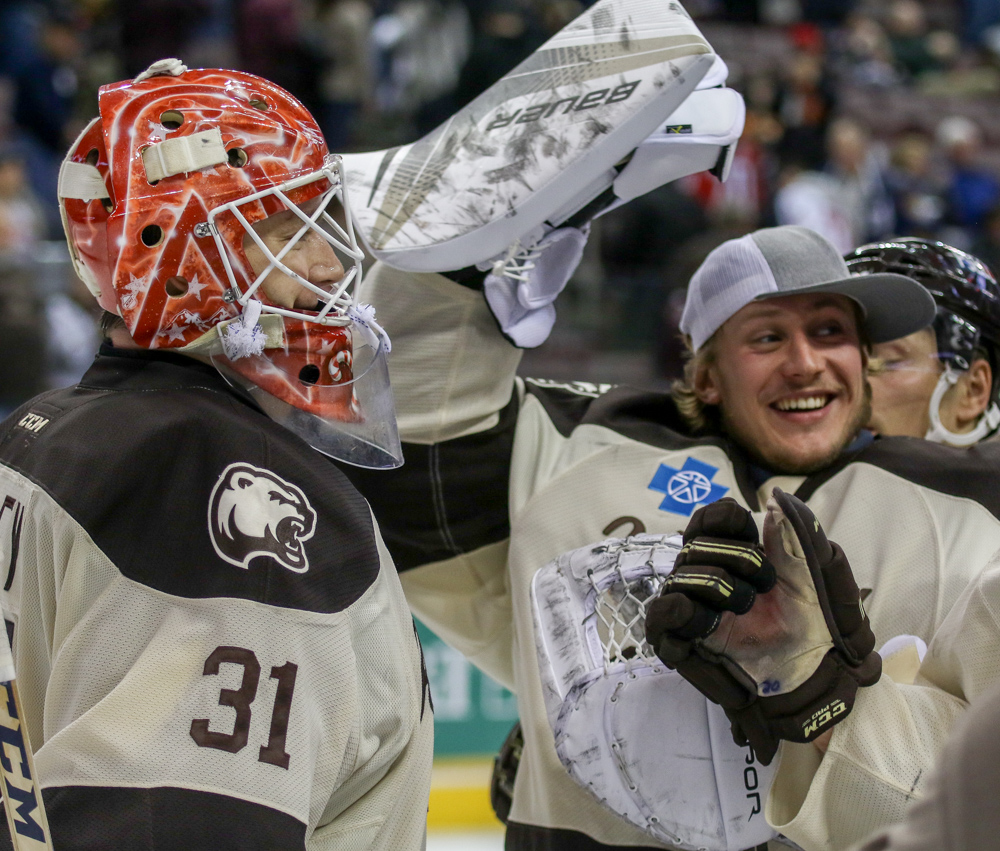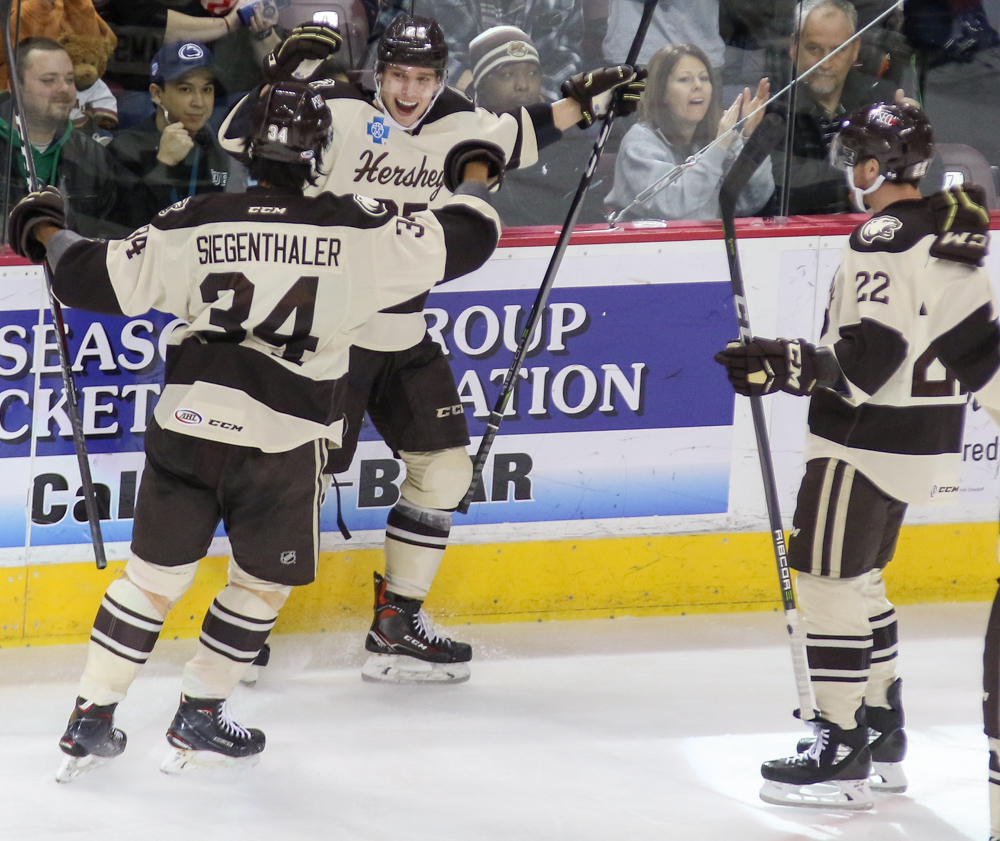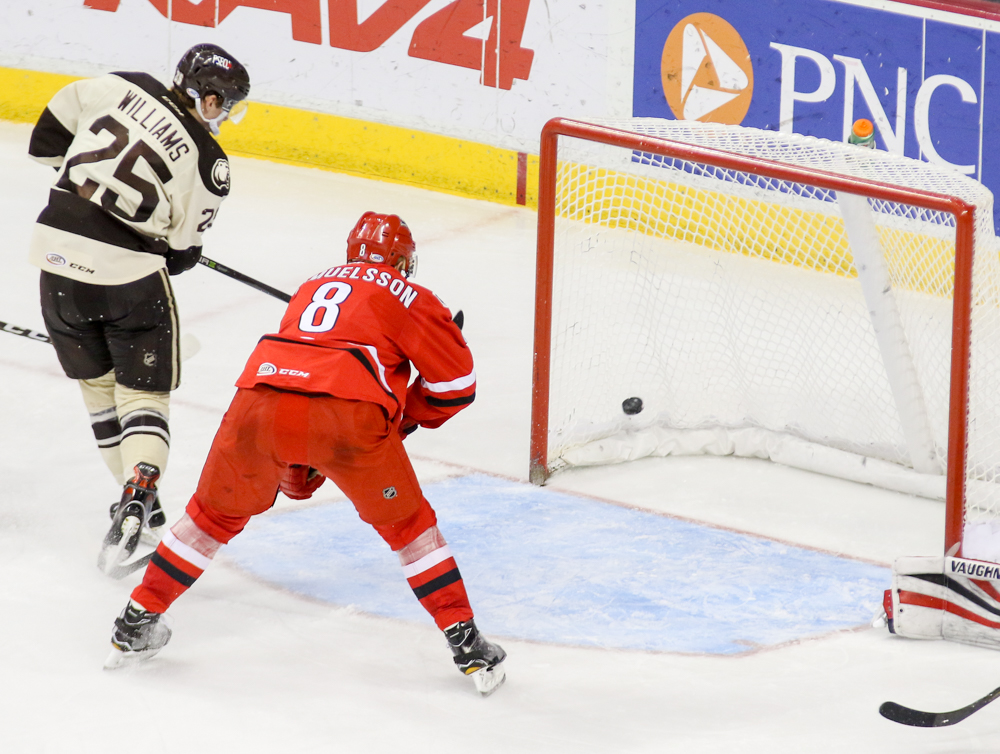 Hershey kicks off 2018 with 5-1 victory over Charlotte (Photos)
The Charlotte Checkers visited Hershey for the first time since 2014 on Saturday as Hershey's newest rivals in the Atlantic Division.
While it was the first visit by the Checkers in four years, Hershey was looking for their first win against Charlotte in Chocolate Town since 2012.
The Bears traded some good chances with the Checkers in the first period and came away scoreless after the first. Pheonix Copley made ten saves, and good defense kept the visitors off the board. The Bears only had three shots but had several attempts of their own blocked.
The Bears came out a little slow to start on offense and were mired with just five shots halfway through the period. Charlotte opened the scoring when Jake Chelios fired a high point shot past Copley after Hershey failed to score on a power play, but John Albert responded with a dirty but good whack at the puck that went in to tie at 1. The goal came shortly after a big hit by Nathan Walker that woke up the building and got the Bears going.
Walker's line that includes Riley Barber and Tyler Graovac has been instrumental in Hershey's success since Walker's return to Chocolate Town. "The common denominator there is Walker and Barber," said Troy Mann. "They have played practically two-plus years together. The centerman has changed – Stephenson quite a bit last year and then Carter Camper the year before – and I just thought that Gravo would be a good fit from there.
"I spoke to Gravo this morning. When he's moving his feet, he's a very, very effective player. I think all 12 forwards got going as the game progressed but I thought Gravo was one of those guys coming to me early and you know they were they were really good and I was trying to match them up against their top line, the Miller line, as much as we could without disrupting the rhythm of the hockey game so they did a nice job and they've been really good since I've put them together when."
Hershey took the lead when Barber fired a laser on the power play to give the Bears a 2-1 lead after two periods of play. Hershey would finish one for four on the advantage and a perfect two for two on the penalty kill.
"Well I think PK wise we did a lot of good things. First of all, we stayed disciplined, I think they had three [power plays] so that's huge. Most nights if you can keep it under four I think our penalty kill is one of the best in the league."
In the third, Hershey jumped out on the Checkers in a big way. Colby Williams made an excellent curl and drag to score off the rebound of a Walker shot to make it 3-1 Bears. "I don't know why I was down there," said Williams with a smile. "But I find myself down there more often than not. I just went to the net the rebound came off his pad and I knew I couldn't shoot it because he's was right in from me so I tried to just drag it across and lucky it stayed on my stick long enough to put in the net."
Zach Sill stopped a rebound of a Jonas Siegenthaler shot with his skate and tapped in a rebound to extend Hershey's lead to 4-1.
Charlotte followed up by making one of the more unusual plays seen in recent memory. The visitors pulled their goaltender with 7:50 to go in the third, and Wayne Simpson would score into the empty net to get Hershey a 5-1 victory in their first game of 2018. Copley ended the game with 32 saves and was named the game's first star.
Hershey is back to 500, but still out of a playoff spot. The Bears know they need to build off of this win and continue to take steps forward. "The position we are in the standings right now that's what we have to do," said John Albert. "But I think we have to forget about everything that happened in the past, even forget about tonight. It was a great win, but you go home, you rest, and you come back tomorrow for another game. It's game by game at this point. I think as a team we're coming together. We're not too far off.
"I've been in this situation before with my team in St. John's – 500 for most of the season even till after All-Star break. But when things clicked together you realize that, and for this group, we have the right players. We have a coaching staff. We get our scoring chances. It's just time for us to bury those scoring chances so if we continue to play the way we are, I have no doubt in my mind that we'll make a run here for the playoffs."
The Chocolate and White rematches with Charlotte on Sunday for Star Wars night at Giant Center, 5 pm puck drop.