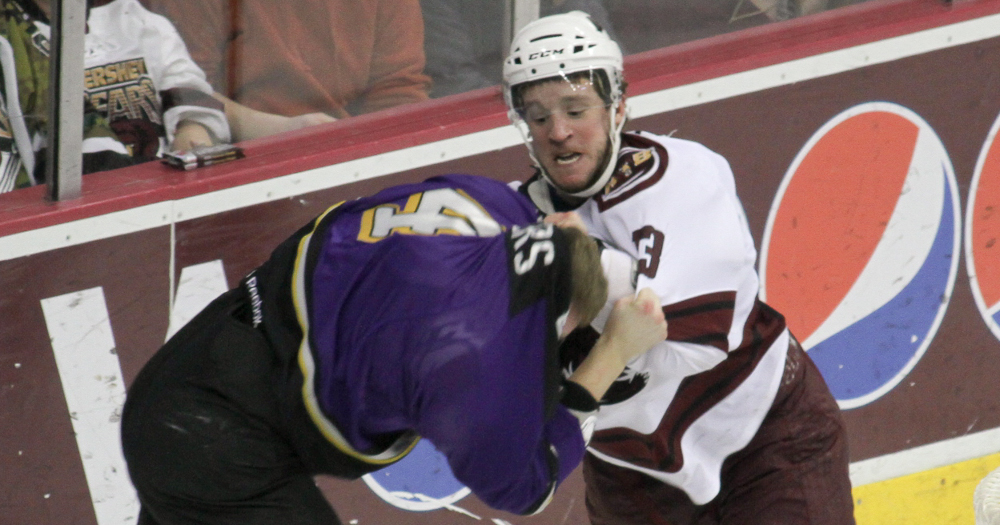 Former Hershey Bear Andrew Carroll dies at 32 after airport fall
Former Hershey Bear Andrew Carroll has died at the age of 32.
Carroll spent two seasons with the Hershey Bears, playing in 93 games for the Chocolate and White between 2010 and 2012. The Shoreview, Minnesota native played four seasons at the University of Minnesota-Duluth, captaining their team two seasons in 2006-07 and 2008-09.
"We are devastated and heartbroken by the news our former captain, Andrew Carroll, has passed away," a statement from UMD read. "Andrew was a driven student-athlete, loyal teammate, and selfless leader. He exemplified Bulldog Hockey in every way, and it is clear how much he meant to this program by the outpouring of emotion we have received from his teammates and other alumni since we heard of the accident."
The team has placed "AC" stickers on their helmets for the remainder of the season.
— Riley Tufte (@rileytufte27) January 22, 2018
Carroll passed away after a fall at Chicago O'Hare Airport KBJR 6 in Superior, Wisconsin confirmed. "We are deeply saddened to share of the loss of Andrew, an amazing brother, son, uncle, nephew, cousin, teammate, mentor, and friend who died tragically after a fall at the Chicago O'Hare Airport," a statement from Carroll's family read. "We are deeply grieving but have the assurance that he is in the loving arms of Jesus because of his decision to accept Christ.
"At this difficult time, what also gives us comfort is that his life meant so much to so many people and he was able to give the gift of hope by donating his heart and organs so that others might have life. May his love for Jesus and others live through each of us. We are in the process of making arrangements for his celebration of life and hope you can join us as we honor Andrew."
Two current Hershey Bears, Chris Bourque and Garrett Mitchell, played with Carroll during his time in Hershey. "The entire Hershey Bears organization is deeply sadden [sic] to hear about the passing of former Bear Andrew Carroll," a tweet from the team read. "Our thoughts are with his family and friends."